Description
The development of my early building techniques is clearly shown in the wide range of Weevilss I made over a period of 10 or so years – they all stem from the same core circuit using CMOS 4000 chips to make simple squarewaves which are quasi-ringmodulated together, this idea originally coming from cymbal synthesis techniques. So here's a bit of a historical overview:
Early ones:
Damn, a load of different ideas & tests, strange & playful enclosures – the Facemask one still lives in the Cube Cinema office as it was built for performance there under the cinema seating: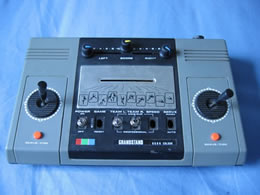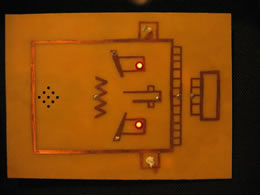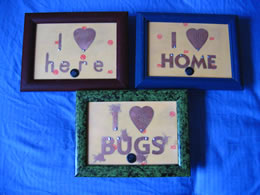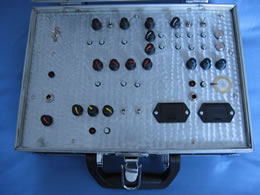 Then also more plays in plastic cases and old cigar boxes – oh yes, and making a couple of Weevil Saxes for Swedish musicians (Mats Gustafsson & Dror Feiler):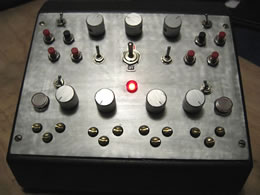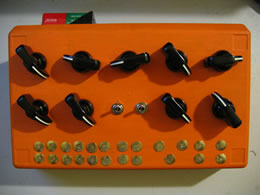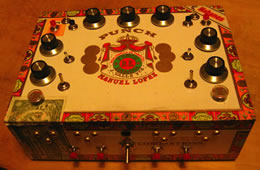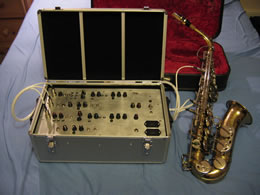 Thing standardised a bit – from 2006 I offered a regular design but with custom touchplates. Then also did new versions in 2007 & 2008 (last regular Standalone Weevil) – you can see how I moved in 2007 to CNC routing of the PCBs and then started with 'pro' PCBs in 2008. I think most designs had internal speakers – I liked making these as 'acoustic' instruments: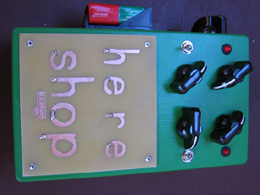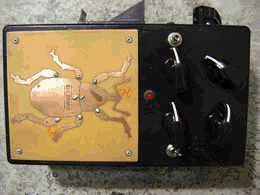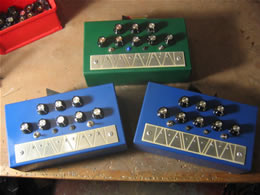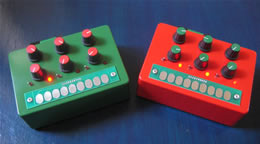 AudioWeevils:
I made some Weevils with audio input – marrying an external signal properly into the lofi Weevil circuitry was always a bit funky: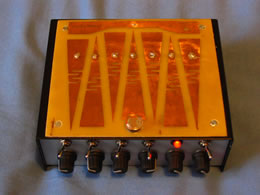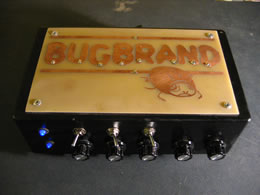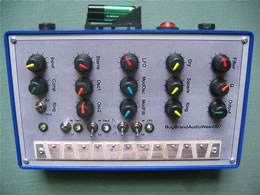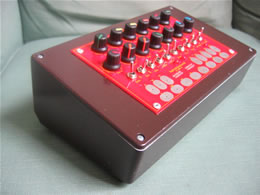 Postcard & Board Weevils:
Putting a design into a case often felt complex back then so I began playing with raw PCB instruments – always with onboard speaker to make them truly portable instruments.
PostcardWeevils were small – below are the first production type, then 2007, 2008 & 2009 versions (2012 Travel Weevil missing):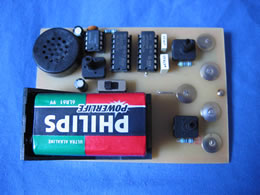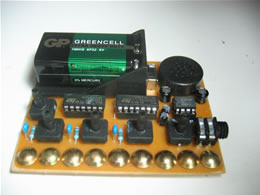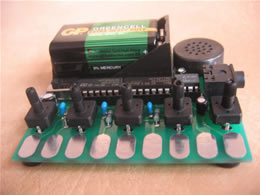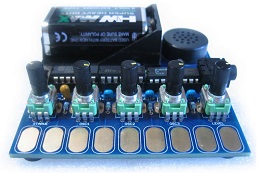 BoardWeevils were bigger, first coming out in 2009, then differing versions in 2012 & 2015. The main photo up top is one of these put inside a modular case, with large speaker & powered by a 12V SLA battery – noisy bugger! There was also an odd one out,the Cube Weevil (added multiplexed pitch), which helped generate funds for The Cube Cinema to buy its building!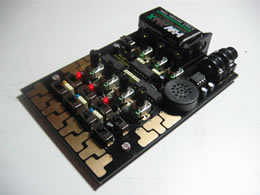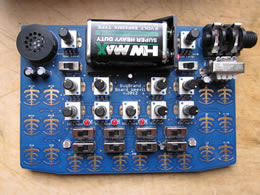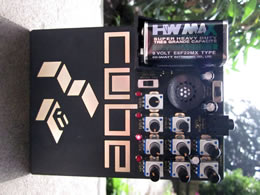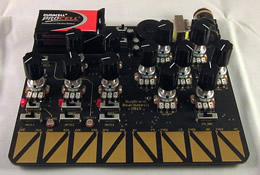 I also tried to bring the Weevils to my Old Blue Modular range but never quite felt I managed to capture the true lofi chaos of the simple CMOS versions.
By 2015 I felt I'd played out the Weevil ideas, but a new chaotic heart became apparent – cross-modulating oscillators – first seen as Molnet, but then moving to become the Chirpers.
Will Weevils return? Who knows..
Here are a few old manuals I found:
AudioWeevil06    AudioWeevil08
Weevil06    Weevil07
PostcardWeevil06    PostcardWeevil08    PostcardWeevil09
BoardWeevil09    BoardWeevil12    BoardWeevil15
CubeWeevil