15 years in and counting! I'm always interested in both the technical and more creative sides – perhaps a meeting of science & art, thinking & letting go. The systems today highlight this – they are complex, detailed, technical, but also imperfect, somewhat alive. You can understand the building blocks at a micro level, but when combined into a larger system you must relinquish control and welcome the surprise elements.
While the early years saw me primarily making quite lo-fi and experimental devices such Weevils and several thousand Contact Microphones, I have gradually moved more into the world of Modular Synths. I introduced the BugBrand Modular System at the start of 2009 and this was the main focus up to 2013 when life changes meant I had to try to focus in on less nebulous projects. So I moved on to the more self-contained 'Reds' – though these were actually still built in a modular style – and a few years later I am now back to offering a range of standalone and modular designs. It is all iterative!
The methods used in my work have undergone a gradual evolution – beginning with supremely laborious hand-etched circuits built into old cigar cases, but gradually moving to professional PCBs (circuit boards) and then through 2010 starting to using surface mount components, first of all stuffing these by hand in Bristol, but nowadays getting them done automatically by subcontract. In fact, the evolution of the Weevil family really highlights the refinement process, reaching the BoardWeevil in 2009 which did away with any enclosure and presented the naked circuit with touch-points integrated into the circuit design. I've had assistants on & off over the years, helping me with the regular building.
In 2010, I incorporated the business as BugBrand Ltd and finally left the damp basement where BugBrand had developed and moved down the road to Ninetree Hill, just off Stokes Croft in Bristol.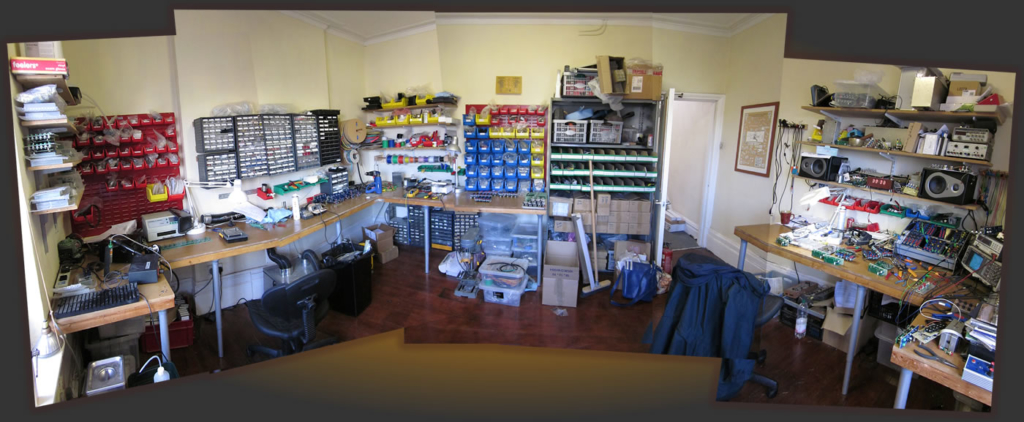 Electronic Background
I actually have virtually no official training in electronics! Well, that's a slight lie because I actually studied Music Systems Engineering at UWE, Bristol (2000-2004, 1st Class Honours), but what this technical course really taught me was that excess mathematical calculations were not going to lead me to interesting and fun design ideas (or at least not quickly..). My route has instead been through trying things out and reading in books and on the internet – a self-directed DIY approach.
It was the ideas of circuit bending, the creative short-circuiting of devices to make malfunctionary new sounds, that got me started investigating the sounds hidden within circuits. From there I began building my own circuits to better understand the workings and things have just grown from there as I have discovered new techniques, both in circuitry and in the creative use of materials.
Musical Background
Between 2001 and 2006 my main creative focus was in performance and recording, both solo as Knowledge of Bugs and in several bands around Bristol including Francois & the Atlas Mountains, War Against Sleep and Bronnt Industries Kapital. My last Knowledge of Bugs album, The Shifted Sands, was released in late 2005. Since then it has been a gradual slide from music into electronics. It was only once I moved to Ninetree Hill that I really rekindled the playing – getting back to live shows and doing more studio work (very few things finished! But I did get a rambling techno track out on Omar S' FXHE Label in 2013)
I spent several years helping out at the wonderful Cube Cinema, primarily doing live sound for bands, but also recording acts such as Safetyword, Herman Dune, Jandek and Evan Parker.

A note on 'Bugs': While one may think that the Bugs moniker comes from sonic-errors, it in fact stems from my old performance name – Knowledge of Bugs. I dreamt up that name while in Tennessee back in 1998 or so and used it for years. When I started self-releasing recordings, I came up with the BugBrand label name and this slid onwards to the beginnings of my electronic explorations. By the way, my real surname most certainly isn't Bugs!